I regularly work to commission both for business clients and private clients. If you are interested in one of my paintings for your home or office space please feel free to contact me about commissioning a piece. I can make work bespoke to fit most wall spaces and can work to colour schemes that match your interiors. 
THE FOOD CENTRE PAINTINGS, MILTON KEYNES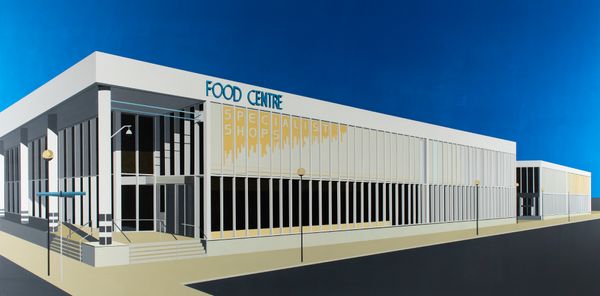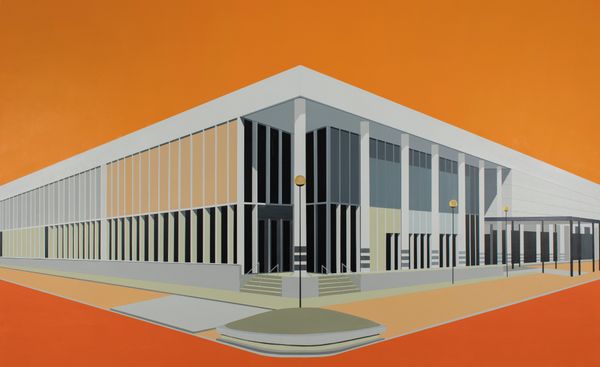 In 2020 I was commissioned to make two large scale paintings of The Food Centre in Milton Keynes. The Food Centre was a 1980's innovation, an experimental building designed to house all of the city's food retail stores under one roof. As the building headed into the 2010's this enormous space was utilised less and less. The paintings commemorate and celebrate The Food Centre; its grand scale, its role in building a community, its innovation and its importance in reflecting a moment in time in the development of Milton Keynes. With thanks to MEPC property development.
These paintings will be on display in the MK:Centre, Milton Keynes on Saturday 16th and Sunday 17th October 2021.
SAGA CRUISES: SPIRIT OF DISCOVERY, BRITANNIA LOUNGE
In 2018 I was commissioned to make 10 paintings for the Britannia Lounge on board SAGA's brand new cruise ship Spirit of Discovery. The paintings were inspired by the architects CGI graphics of the ship as well as a visit to the Meyer-Werft shipyard in Papenburg where I photographed the ship being built and worked from these photographs to create two of the larger bespoke paintings. The colours in these pieces are all hand mixed to fit the interior of The Britannia Lounge. 
The Sybil Andrews Family Trail